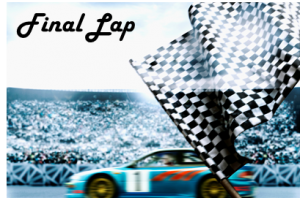 Let me start by letting you know that I'm not forgetting about my beloved Star Trek. I've lost count of how many times I've watched my copy of Into Darkness. But something else has captured my attention this week, and we should all be afraid—very afraid.
Season 4 of The Walking Dead premieres this Sunday! In honor of the return of one of my favorite shows, I decided to try to "dead" myself. Alas, my blasted helmet got in the way! Didn't anyone think to make sure the visor on this thing flips up? I guess being zombie-fied is out of the question for poor, old Max.
Oh well, I'll still be tuning in this Sunday, even if some of the other members of the pit crew prefer their TV characters alive rather than dead. (I have it on good authority that Kathy would much rather catch the latest episode of Downton Abbey. Where have I gone wrong?!?) In the meantime, get your fill of some good reads on analytics, link building, SEO, and content marketing.
Ideas for Keyword (Not Provided) by Reid Bandremer
You may have heard that 100% of Google keyword data will soon be invisible. The Luna Metrics blog gives us some ideas to make sure the insights we gained from this data is not going to be lost, leaving us unable to take the right actions for our search strategy.
Hummingbird's Impact On B2B Sites by Harrison Jones
Everyone please remain seated. Google's Hummingbird search update is no need to panic. Actually, Harrison tells you why it's probably a good thing if you're a B2B company—especially with a few tweaks to your analytics and content strategy.
Visual Content: The Potential and Pitfalls of Parallax Design by Mark Sherbin
A picture is worth a thousand words, or so the saying goes. What does that mean for your content strategy? Engaging with site visitors is more than just words on a page. Mark tells you why you need to consider what visitors see, not just what they'll read.
How to Instantly Make Blogger Outreach and PR Work for You by Adam Connell
Is your blogger outreach less successful than the offensive line of the Pittsburgh Steelers at stopping the opposing defense from sacking Ben Roethlisberger? If so, read this post. Adam takes you through the crucial steps to put together an e-mail that will get a response. If only he could write a play book for the ailing black and gold.
24 Tools for the Link Building Process by Paddy Moogan
There are plenty of posts highlighting different link building tools, but this post gives tools for each step of the link building process. For that reason alone, this is a must read.